Be it an 'aam' aadmi or a khaas one, mango tops the list of everyone's reasons for loving summer! From having their own prized place in the history of India, mangoes have effortlessly made their way into everyone's hearts too. One thing that not many people know, is that along with its deliciousness, mango also comes with a lot of health benefits. Mango helps in easing the digestion process, promotes gut health, eye health, boosts immunity, lowers cholesterol, clears the skin and the list is endless. Long story short, the king of fruits, as it is popularly called, is here for a really short time (3 months ONLY, can you believe that?), just once in a year. So it is important that we make the most of it while it is around, right?
While there is no one fixed way to consume mango, with rising heat levels in summers, most people feel drawn towards consuming it as a drink. But wouldn't it be better if your mango drink came with additional benefits like low fat and high protein that gives you energy too? Presenting Protinex in an all-new Mango flavour, which is high on protein, and high on mango. Talk about health and taste ka perfect combination! The scorching summer heat has the tendency to make you feel lethargic and weak. That's where Protinex Mango comes to your rescue, by replenishing your lost energy with a delightful taste.
"But, Protinex can only be consumed with milk yaar," you might say. *Ahem* we beg to differ! There are multiple other yummy ways to enjoy Protinex Mango. Read on to find out how you can make the best of Summer delicacies with Protinex Mango and enjoy them on a hot summer day.
1. Nutritious Mango Ice-cream: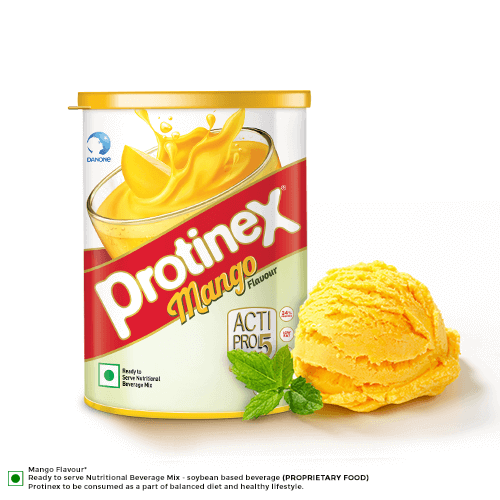 What better way to cool off than a delicious mango ice cream that is nourishing and easy to make too? Just add about 1 litre of coconut milk to a mixer and blend. Add 4-5 heaped teaspoons of Protinex Mango and dates or sugar-free sweetener for additional sweetness. Add some vanilla essence, and blend well until it is thick and creamy. Pour the mixture into an already frozen deep pan. Leave it to set in the freezer, and keep stirring twice in the first hour to keep it from becoming hard. Your delicious mango ice-cream is now ready to be relished!
2. Protein-rich Mango Pudding: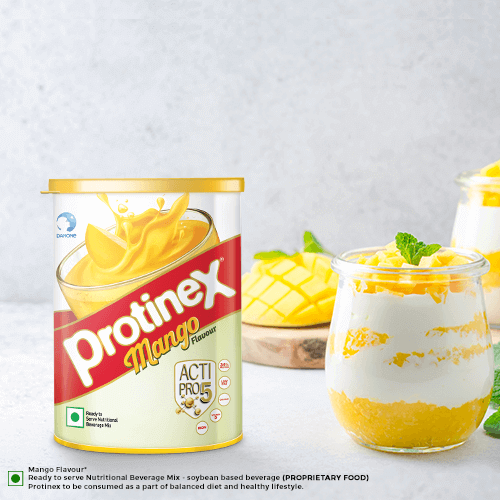 East or west, puddings are always the best! But can they be nutritious too? YES! With Protinex Mango, it's all possible – and that too with just 3 ingredients and in 3 easy steps! Here's how you can make it – add 2 to 3 heaped tablespoons of Protinex Mango to 3/4th cup of water or almond milk and one and a half tablespoon of Chia seeds. Blend it all well for 30 seconds. Let it chill for an hour in the freezer. Garnish with a basil leaf for the visual appeal, and enjoy!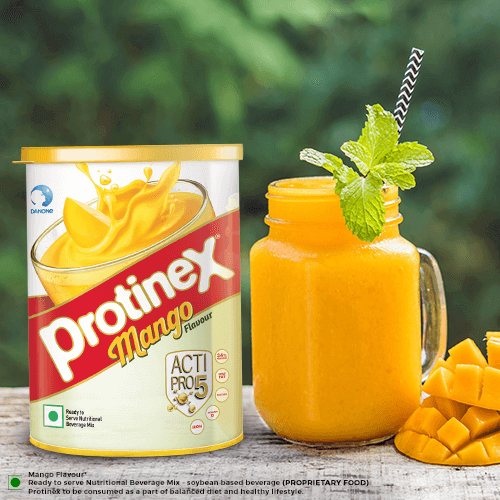 We saved the best for last! Delicious and filling, this one's a treat for all those who are looking for an instant and healthy indulgence. Plus, what better way to refresh in the scorching summers than a delightful mango smoothie? To add to that, this yummilicious mango protein shake is ready in just 5 minutes! How? Just add 2-3 heaped tablespoons of Protinex Mango to 200 ml of cold milk, add sugar if needed, stir, and enjoy!
Easy peasy? Told you! This is not all, you can indulge in an array of refreshing options this summer with the yummy Protinex Tasty Chocolate and Protinex Vanilla. From smoothies to desserts and a lot more, you can let your imagination run wild and indulge in as many delicacies as you wish! To check out more protein powder flavours or to have your favourite Protinex variants conveniently delivered to your doorstep, check out Protinex on Amazon. So what are you waiting for? Go ahead, try out your own fun and healthy recipes with Protinex and #MakeItAHabit!