It is an age-old battle to control ourselves during the festive season with all the tempting food and drinks around us. But they usually make us feel guilty afterwards. Are we right or are we right? Christmas is almost around the corner and we can't contain our excitement of celebrating it with loads of delicious desserts. However, one should also be mindful of keeping health in check! Many people feel tempted to throw caution to the wind, eat everything they want and worry about the results when it comes time to make their New Year's resolutions. Though it's alright to indulge, they key is balance and moderation.
To help you enjoy this Christmas season without regretting your choices, we've handpicked 5 super nutritious, healthy desserts from Insta-famous chefs who have specially curated using Protinex!

Why is it important to have adequate protein daily?
✅ It helps boost our metabolism and in turn burn more calories
✅ Protinex helps in satiety; keeping us full for a longer time so that we overindulge less
✅ it helps build and repair muscles, keeping us active throughout the festive season without feeling tired too often.

1. Eggless Vanilla Donuts with Dark Chocolate Glaze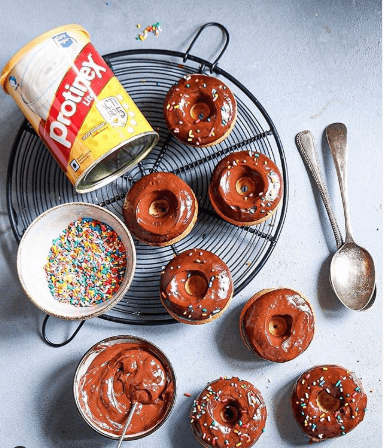 This is hands down our favourite vanilla donut recipe made with our zero added sugar variant Protinex Lite. It is specially formulated with nutrients that support weight management and an active lifestyle and ispacked with Iron, Folic acid and vitamins.. Make these delicious baked donuts with Protinex Lite and treat yourself to a healthy indulgence this Christmas.
Ingredients:
1 ½ cup oats flour
1 1/4th cup almond flour
1 tsp. baking powder
1/4th tsp. salt
3/4th cup coconut sugar
1/4th cup vegetable oil
1 cup buttermilk
1 tsp. vanilla essence
1 ½ tbsp. flax seed mix (mix together 1 tbsp ground flax seed with 2 to 3 tbsp of warm water and let it sit for 5 mins)
For the chocolate glaze:
100 gms dark chocolate
¼ cup cream
½ tsp. butter
Instructions:
Sieve together flour, baking powder, Protinex Lite and salt
In a bowl, add buttermilk, coconut sugar, oil, vanilla essence, and flax seed mix
Now, mix it well until combined and add in dry ingredients and fold in gently
Pipe the batter in your donut baking tin, and bake in a preheated oven for 18 to 20 mins at 160 degrees
Meanwhile, prepare your chocolate glaze and heat the cream
Now, add the cream to the chocolate chunks, butter and mix well
Now, dunk the donut tops into the chocolate and top it with sprinkles
Voila! It's ready.
2. Chocolate Tiramisu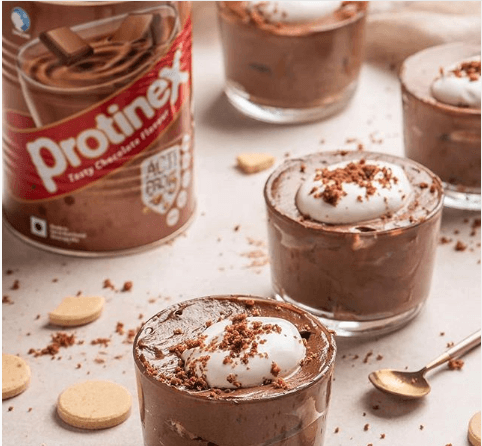 What's better than a chocolate binge on Christmas? Presenting a classic Tiramisu recipe with a nutritious twist. This chocolate Tiramisu made with Protinex Tasty Chocolate not only satisfies your taste buds but also provides you with your daily dose of protein intake. Make this sinful delight at home and binge on it, sans the guilt!
Ingredients:
For the filling:
2 egg yolks
1 tbsp. sugar
250 gms mascarpone cream
100 gms melted dark chocolate
1 tsp. vanilla
Pinch of salt
½ cup heavy cream, cold
1 tbsp. Protinex Tasty Chocolate
For the biscuit layer
1 cup hot water
2 tsp. espresso powder
24 ladyfingers
3 tbsp. Protinex Tasty Chocolate Powder
For the crumble topping:
10 Protinex Bytes
1 tbsp. cocoa powder
2 tbsp. butter, melted
½ cup heavy cream
Instructions:
In a heat proof bowl mix, egg yolks and sugar. Place the bowl over a saucepan with simmering water, whisking the egg yolks and sugar and mix till the mixture is thick and double in volume
Now, remove from the heat and whisk in the mascarpone mixture and set aside
In another bowl, whisk the hot water, Protinex Tasty Chocolate and espresso powder
One at a time, dip the biscuit into the chocolate mixture and place in serving dish
Spread half the mascarpone filling over the soaked biscuits and repeat
Refrigerate for at least 2 hours or overnight
Make the crumble topping:
Preheat oven to 180 Celsius and coarse grind Protinex Bytes
Mix in the cocoa powder and the melted butter
Spread on the baking tray and bake for 10 minutes
Remove and let it cool
When ready to serve, add a dollop of cream on top and sprinkle with bytes crumbs.
3. No-Fuss Vanilla Serradura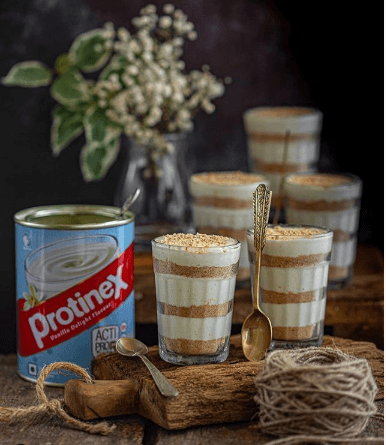 Serradura, also known as Sawdust Pudding, is a wonderful Portuguese style dessert! This dessert is unbelievably simple and easy to make and only requires four easy to find ingredients. Protinex Vanilla Delight acts as the source of nutrition, delicious vanilla flavour and is low fat. Presenting a no-fuss Vanilla Serradura that is packed with proteins, calcium, vitamins and iron as well.
Ingredients:
200 ml heavy cream
1 cup reduced milk
½ cup Protinex Vanilla Delight
12-15 Marie biscuits
Instructions:
Start by adding the Protinex Vanilla Delight to the reduced milk, mix well till incorporated, and make sure there are no lumps
Keep it aside and in another bowl whip the cream over a bath of ice until thick and soft peaks form
Now, gently fold in the Protinex Vanilla Delight and mix milk into the whipped cream. Do not over-beat it
Grind the Marie biscuits to a fine powder, keep aside in a bowl
Take a serving glass and start layering it
Start with a layer of Marie biscuit dust
Now, top with the Protinex Vanilla Delight mix
Repeat the layers and refrigerate for 2 hours before serving.
4. Kesar Badam Semifreddo
Add a royal Indian touch to your Christmas celebrations this year with this delicious Kesar Badam semifreddo. This healthy dessert is made with the delicious Protinex Kesar Badam is enriched with Acti pro 5, a combination of high protein, high calcium, low fat and 27 essential vitamins and minerals , so you can indulge without the guilt! Read on to know how to make it –
Ingredients:
350 ml heavy cream
7 tbsp. Protinex Kesar Badam powder
3 egg yolks, at room temperature
1 whole egg, at room temperature
1 tbsp. pistachio, chopped
1 tbsp. raisins, chopped
3 tbsp. honey
Instructions:
Take the egg yolks in a bowl
Beat the eggs gently with a hand whisk over a pot of gently simmering water
Continue to beat until the consistency is thick and the mixture takes on a pale tinge
Take the bowl out from the double boiler and add the Protinex Kesar Badam powder, give it a hearty mix, ensuring there are no lumps
Now, whip the cream over a bath of ice until thick, and gently fold the whipped cream into the mixture
Now, throw in the chopped pistachios and raisins, and give it a gentle mix
Line the moulds, with cling film, add the mix and refrigerate overnight
Once set, remove the cling film, gently demould over a serving plate and serve immediately.
5. Protein Enriched Panna Cotta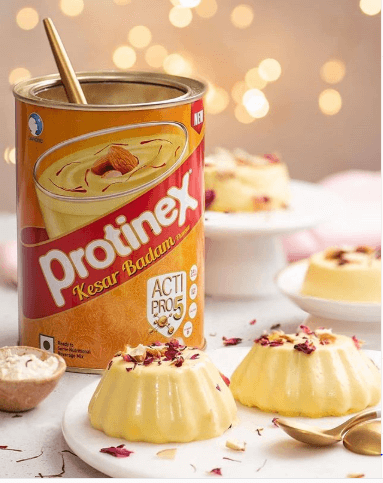 Another great dessert made from the delicious Protinex Kesar Badam is the delicious protein-enriched Kesar badam panna cotta. It not only tastes divine but has the goodness of Iron, Calcium, Vitamin D and the best part? It is also low in fat! Well, what else could make Christmas merrier?
Ingredients:
400 ml cream
100 ml milk
2 tsp. gelatin powder
3 tbsp. cold water
6 tbsp. Protinex Kesar Badam
¼ tsp cardamom powder
1-2 tbsp. sugar
Instructions:
Heat the cream, milk and sugar in a saucepan
Once the sugar is dissolved, and the cream is substantially warm, remove from the heat
Lightly grease the moulds you are using for the panna cotta with a neutral-tasting oil
Now, sprinkle the gelatin over the cold water in a medium-sized bowl and let stand 5 to 10 minutes till it swells up
Pour the warm Panna Cotta mixture over the gelatin and stir until the gelatin is completely dissolved
Now, add the Protinex Kesar Badam and cardamom powder
Divide the panna cotta mixture into prepared moulds
If you are wary of lumps, strain the mixture before pouring into the cups
Now, chill the panna cotta until firm, which will take at least two hours but preferably let them set for at least four hours
Unmould, garnish with dried rose petals and slivered almonds. Serve.
Stay active, stay fit and make these healthy recipes that you and your family can enjoy during this Christmas.
You can get your hands on all these delicious flavours at Amazon.in